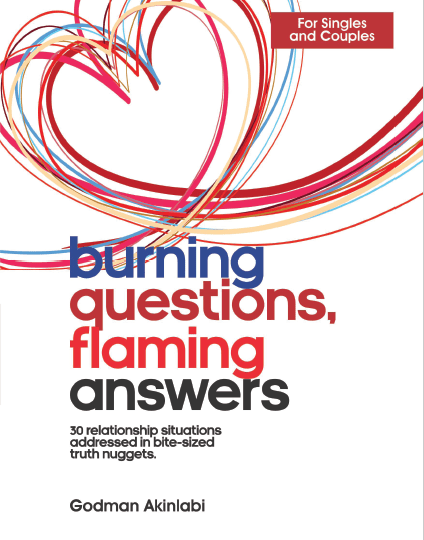 When I started reading this book, Burning Questions, Flaming Answers by Pastor Godman Akinlabi; I thought it would probably follow the norm of any regular relationship book. For example, I thought I will see things like – in a relationship, do this or do that; but as I flipped through every page, I found myself wanting more. I'm glad this book was written because it answers a variety of questions that touch on character, love, forgiveness, decision-making and many more in any relationship.  So, are you looking for a book that delves completely into answering questions that border on the matters of the heart? Either as a single person in waiting, a person in a relationship leading to marriage or a married person, this book is for you.
In his latest book on relationship matters, Pastor Godman Akinlabi helped singles and married couples, not only answer basic questions that run through the mind and cause much strain/pain in relationships, but he also strategically struck a balance between the spiritual perspective, realistic and more general approach.
Burning Questions, Flaming Answers is filled with real-life issues that singles face including questions about who to marry, how to choose between two amazing prospective partners, dealing with the in-laws, the issue of sex before marriage, as well as maintaining intimacy in marriage, child-rearing, finances etc.
A few of the questions that were answered are:
I'm about to get married and I'm afraid I won't satisfy my spouse sexually
My girlfriend is not fine and I'm afraid I'll fall for a finer babe when we get married
What do you do when you find out the person you are dating is impotent or sterile?
How do I make my in-laws love me?
Must we share the same bed or bedroom just because we are married?
Help, I think my husband is cheating on me but I can't prove it
My wife can keep malice with me for months! Is she even a Christian?
How to change your spouse without changing your spouse
Through every page of this book, you will discover the ideal solutions to burning questions of the heart. This is a God-centred approach to fixing real-life expectations of getting ready for marriage and building a love that lasts forever.
The book has 15 questions for singles and 15 questions for couples and gladdens the heart with well-crafted answers that directly address the questions and how to properly deal with them. After reading Burning Questions, Flaming Answers, you sure are in for a jolly good relationship ride.
Written by Tolulope Oyekan