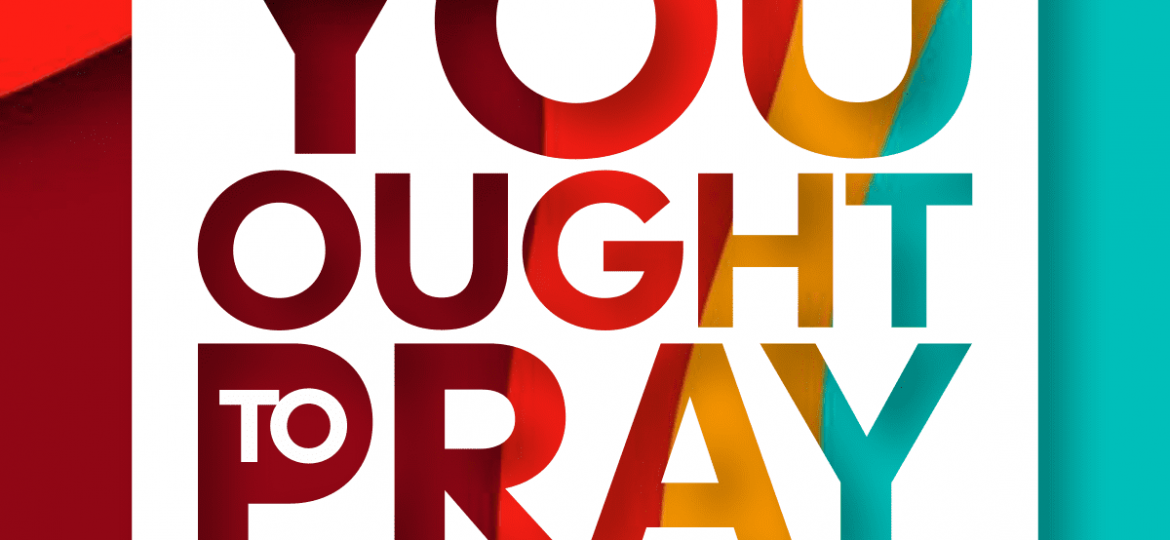 Prayer can be viewed in 3D: devotion, discussion and demands. However, some of us have focused on the demands dimension of prayer for so long that we seldom struggle in the place of prayer. I have been there before, I used to struggle to find time to pray or concentrate in the place of prayers, I would sometimes get stuck looking for the right words to say to God. There are times I rely on the fact that God hears my heart and I don't need to struggle to pray.
Whenever I get to certain crossroads, I ask questions like:  Why do I have to pray if God knows my needs already? Why should I spend more time praying when it seems my prayers are not getting answered? Why does it take God a long time to answer my prayers despite my faithfulness to His word?
In my quest to find answers to these questions, I have come to understand that prayer is not just a means of communicating with God or compelling Him to do what I want. It's a means of communing with God and connecting with Him on a deeper, higher and wider level. God is not my ATM (All-Time-Messenger) so I had to take my prayer from the dimension of demands to that of devotion.
What is Prayer?
In my few years in the faith, I have come to see prayers as WWW: worship, warfare and way of life. Prayer makes our walk with God more meaningful, fruitful and wonderful. We need to understand that prayer is not an exercise, it's an experience. It's about flowing with God, an intimate and intentional interaction with the God who sees and hears our heart's cry. Prayer is both a means of resting in God and wrestling with God.
Why Should You Pray?
There is nothing God has not done, there are only things we are yet to experience because we have not prayed about them. Prayer is a spiritual strategy for downloading divine done "deals."  Just as praise is the password to God's presence, prayer is the password to God's powerhouse.
The Lord is near to all who call on him, to all who call on Him in truth. — Psalm 145:18
God knows our needs but He also wants something from us; a connection. Just as we don't want to feel ignored or neglected by our loved ones, God also craves close connection with mankind from the beginning of creation. Good and effective communication is a vital ingredient of every working relationship. However, the main reason for praying should not always be getting answers from God but aligning with God in the scheme of things about our lives.
When we put certain situations before God in prayers, He will start unlocking, unleashing and uncovering supernatural stuff to us.  Even when it seems prayer is not changing things around us, things within us begin to change. Fear and worries give way to peace and joy.
In the place to prayer, we find courage and confidence to confront, control and conquer situations through the help of the Spirit.
What Should You Pray About?
Most times, we get into the web of vain repetitions because we don't know what else to pray about. The Holy Spirit is able and willing to give us utterances but we need to make conscious effort in the place of prayer.
Pray that God would honour His word.
Pray that God would exalt His name.
Pray for forgiveness and mercy.
Pray for grace to grow in the love of God.
Pray for career progress and business expansion.
Pray for marital bliss and blessings.
Pray for the fullness of the Holy Spirit.
Pray for revival in the land.
Pray for protection, provision and preservation.
Pray that God will renew the strength of His people.
Pray for economic stability.
Pray for divine direction for spiritual leaders and people in authority.
Pray for strategic wisdom.
Pray for aversion of disasters and evil.
Pray for signs and wonders.
Pray for security and safety of lives and properties.
Pray for unity, peace and harmony in families and in the body of Christ.
Pray for progress and peace in all nations of the world.
Pray that unbelievers and backsliders will be rescued from sin and Satan.
Pray for better knowledge of God's word and His will.
How to Pray
Prayer does not necessarily need a special spiritual skill. The thief on the cross changed His eternal destiny with just one sentence; blind Bartimaeus in Mark 10:47 cried out and said "Jesus, son of David, have mercy on me". When you tune in to the frequency of faith and your heart is totally connected to God, whatever method you choose to talk to God is fine by Him in as much as your actions glorify His name and as much as possible edify other believers. Pray in understanding and in the spirit. Engage the Holy Spirit to guide you on how to pray.
When to Pray
It is good to have special prayer schedules, but it is also important to know that prayer is both talking and walking with God. We should pray at all times. Prayer should not be our last resort or emergency dial; it is our only resort. Every time is the right time to pray.
Who Should Pray?
Prayer is not only for the poor, perplexed, weak, sick, distressed or downtrodden. We all ought to pray. Prayer is the only thing everyone and anyone can use to have unlimited and unrestricted access to the creator of heaven and earth.
We live in a generation where it seems you don't have to pray to be prosperous, productive and progressive. However, prayer is not always about telling God what we want but having crucial conversations with the God who knows all things. This season, decide to engage God in prayers in a deeper, wider and higher dimension. You ought to pray about anything and everything, anywhere and everywhere at any time and every time.
Written by: Adeleke Adeite