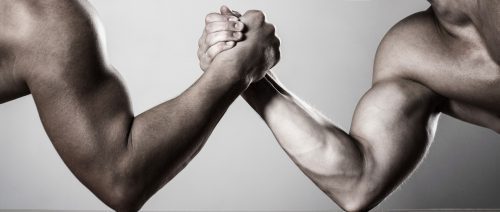 "So Jacob was left all alone, and there a man wrestled with him until daybreak…Then the man said, "Let Me go, for it is daybreak." But Jacob replied, "I will not let you go unless You bless me." – (Genesis 32:24-26)
Wrestling is a daunting physical exercise. It often leaves those who engage in it in various stages of physical pain and exhaustion. But if human wrestling is such a challenging exercise, imagine what wrestling with God would be like! Does the thought scare or excite you? Does it appear like an endeavour you should engage in or flee from? As incredible as it would seem, you should know that it is God's desire that we "wrestle" with Him through persistent prayer (Hebrews 11:6).
When something terrible happens to us or when we need something badly and it is not forthcoming, do we just sink feet in despair? Do we mutter a few reluctant prayers to God for intervention and then mentally start adjusting to continuing in discouragement? God wants us to latch on to His promises and watch them manifest in our lives.
As we grow in our relationship with him, it is God's desire that we engage Him in prayer, through the help of the Holy Spirit, for the things we really want. He wants us to wrestle with him just as Jacob did. This is not to say that He takes delight in watching us labour unnecessarily, rather, He wants us to demonstrate an attitude of genuine desire and be entitled to more blessings than we would ordinarily get if we did not wrestle for them. As challenging as this exercise may initially be, it gets better with practice and helps build our character, faith, belief and dependence on Him.
There are several inspiring stories in the Bible of people who were blessed in abundance by virtue of their patience and tenacity in the place of prayer. Jacob, who though unacquainted with the stranger in contest with him, matched him toe to toe for an entire night and was rewarded for his resilience. He refused to let go until he was blessed. Job endured the worst of tribulations the devil could throw at him by deeply rooting himself in prayers and supplications to God. He spurned several advise from friends and family to sink into despair and hopelessness (having been admonished to curse God and die) and for his steadfastness, he was abundantly rewarded.
As we grow in faith, here are a few tips to fulfilling God's wish to wrestle with Him in prayer:
Strengthen your faith: We have God's unfailing promise to manifest the promises He has earmarked for us. Therefore, exercise no restraint in asking Him to bless you with the kind of faith that is required to stand firm in your expectations from Him.
Maximise the help of 'The Game Changer': To wrestle with God to the point of prevailing, we need to be absolutely dependent on the Holy Spirit for insight, guidance, and strength (staying power!). The Holy Spirit is the one who reveals to us the things that have been freely given to us by God (1 Corinthians 2:9-12).
Be courageous: Be aware that the devil is constantly attacking the children of God, by inflicting them with despair and spiritual helplessness. Therefore, be bold to make audacious prayers that only God can answer so that the evil one will be kept at bay.
Schedule your prayers: Rearrange your daily schedule to allow more time for regular prayers. Get off time-consuming habits that may interfere with your focusing on intense and effective prayers.
Exercise tenacity: Pray without ceasing! Be persistent in your demands without pestering. Knock until that door opens! There are situations where God answers only after a period of prolonged and not comfortable wrestling with Him (Genesis 32:26).
Talk less, hear more: Prayer is communication with God and in doing so, we should be as focused on what we say as well as on the word He has for us. Do not drown out His feedback in the jumble. Train your consciousness to be quiet and clearly hear His voice when He speaks (1Kings 19:11-13).
Remember – when God calls you to wrestle with Him in prayer, do not be overwhelmed. Treat it as an invitation to receive His blessing, which will transform and empower you for the better. Stay with Him and never let go until you prevail and your desired change comes. He loves to bless that kind of tenacious faith and leave you totally transformed.
By: Temitayo Ogunmokun