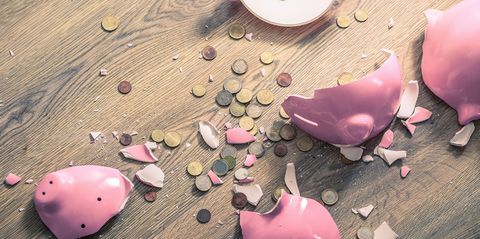 "Therefore I tell you, do not worry about your life, what you will eat or drink; or about your body, what you will wear. Is not life more than food, and the body more than clothes?" –
Matthew 6:25 (NIV)
 Adulthood comes with a lot of responsibilities and there's not much in life that adequately prepares us for these demands and their psychological impact on us. Between thinking of how to get a better life for oneself or family and not having to lack for any of our material needs; it is quite easy to become lost in the unproductive whirlpool of worry.
Worrying is an inalienable emotion of the human nature. As long as there are bills to pay, mouths to feed, family to take care of and businesses to run; we will always be prone to worry. And while we often use worry as the right impetus to push our goals and ambitions, many have been driven to tow perilous lines in their quest to acquire money at all costs. Because of this, stress and depression levels increase; morals and ethics are compromised; bonds, relationships and trusts are severed and lives are ruined.
Experience has shown that the pursuit of money does not equate happiness. While it is true that money can solve a lot of problems, the unhealthy pursuit of money is like chasing and trying to catch shadows, which can clearly be termed an exercise in futility. In fact, studies have shown that the more you chase after money, the less satisfaction you derive. This is because when making money becomes your priority, no matter how much you have; it can never be enough. So will one million dollars make you feel good? Yes. But will it will take all your problems away? Most likely not.
Is it God's plan that we should worry about money? And does the Bible give insight on how to overcome worry? The answers to these questions are no and yes respectively. The Bible makes us understand that worry accomplishes nothing. It is certainly not God's intention that we waste our mental energy on peripheral issues like food and clothing when he has bigger plans for us – Matthew 6:27. The beautiful thing is that we have God's unwavering assurance to supply our every need according to his riches in glory. He does this by equipping us with wisdom to seek financial direction from others, skills to create & manage resources and the confidence to withstand and overcome the worries that come with lack. We just need to trust Him wholeheartedly and abide by his instructions.
Here are a few tips to help reduce worrying about money:
Create a Financial Plan
A prudent Christian learns to acquire the habit of financial planning and tracking the least of expenses. "The wisdom of the prudent is to give thought to their ways, but the folly of fools is deception" – Proverbs 14:8. Start with a budget, no matter how rudimentary.  While a budget may not by itself solve your problems, it will at least give you a clear idea of your financial status to enable you delineate your needs from your wants. In this way, worrying is reduced.
Instead of Worrying, Pray!
"Do not be anxious about anything, but in every situation, by prayer and petition, with thanksgiving, present you requests to God" – Philippians 4:6. Instead of worrying about your needs, take it to God in prayer. Tell God what you need and express your appreciation for all he has done already.
Consider your Worst-Case Scenario
Whatever the issues are, take a deep breath, look them in the eye and ask yourself what is the worst that could happen. Put your circumstances in perspective and acknowledge the presence of the helper in your life. Consider the fact that he has done greater works and if he did it before, he will do it again and worrying will never help.
Keep Life in Perspective
While you may have spent a substantial part of your life chasing money, take some time to introspect and look at the bigger picture. Ask yourself if your net value is worth anything when compared with your soul. Mark 8:36
In conclusion, always bear it in mind that instead of wasting time and energy on worrying over what you can hardly control, do something more effective and practical. Seek the Kingdom and righteous living and all other things will be added to you – Matthew 6:33. That is an unequivocal promise from God and His words always come to pass.
Witten by Temitayo Ogunmokun