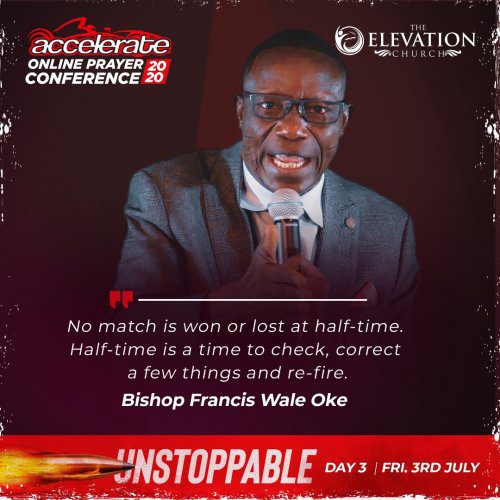 "So David inquired of the Lord, saying, "Shall I pursue this troop? Shall I overtake them? And He answered him, "Pursue, for you shall surely overtake them and without fail recover all." – 1 Samuel 30: 8
God always reserves His best for the last. The mid-year is a significant time of the year as no match that is lost or won at half time. It's usually a time to check things out, correct some things and re-launch.
It's just like one of the football games Nigeria played years back, at the first half, it looked like they had lost the game, everybody had given up and they thought we they had lost. But at the second half, they came back and just like that, effortlessly started scoring goals, till they equalized and eventually won.
So if you have won in the 1st half of the year, you can still do better. God wants His people to go from glory to glory. And if you suffered some losses in the first half of this year, you will recover all. When the Amalekites invaded the land of Ziklag and attacked David's camp, he went to war and it was recorded that David recovered all (1 Samuel 30: 16-19). Whatever the enemy stole from you in the first half of this year, by the mercy of the Most High God, you will recover all! Though your beginning was small, you latter shall be greater! The end of this year will be glorious for you. You will not move at the pace of the last six months, you will accelerate!
Prophecy: You will recover all. You will accelerate, the Lord will bear you on the wings of eagles, you will soar to great heights. In the second half of this year, you are changing pace and tempo because the hand of God will come upon you to accelerate in Jesus name.