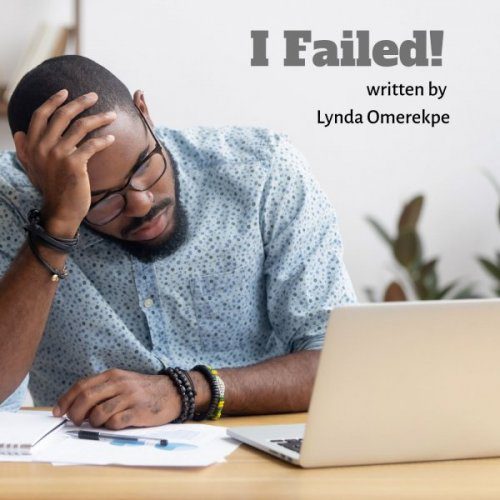 I FAILED!
In recent times I've become more acquainted with LinkedIn than I used to. Well, I met my husband on LinkedIn and since then I figured more good things could come out of Nazareth – I mean, LinkedIn (lol, don't judge me). Okay, let me get serious – my rendezvous with LinkedIn is mainly because of the professional connections, business opportunities and knowledge of business/organizational growth. From my interactions on this professional social network, I noticed that 95% of posts shared are successes, achievements, awards, recognitions, I will be speaking here, or I spoke there etc, and all other accolades, which are fantastic. And same is also replicated on other social media platforms today. Don't get me wrong, it's important to celebrate every milestone in life so why not put it out there, right?
However, the simple truth is – no great success was ever achieved without failure. It may be one epic failure like when I dropped out of medical school and it felt like the end of the world or a series of failures such as Edison's 10,000 attempts to create a light bulb. While we share about our successes, I've come to realize that sharing our failures are a great motivation and encouragement to people currently in the path where we have threaded.
Life itself is not easy; we are not all equal and will always have people who may be above or beneath us at every accomplished milestone. While we celebrate our achievements; someone, somewhere is seriously struggling with that exam you aced; someone has applied 5 times for that job you got, another person is unable to break even in that business you're thriving in and they need to hear the challenges you faced, the hurdles you had to overcome, the walls you had to pull down. Don't just share the success, let them know that even though you finally got through, there was a process to it. Let them know it's okay to fail seven times but to bounce back eight times.
Kevin Costner said, "Failure doesn't kill you… it increases your desire to make something happen." And if you're failing at something you love, I can't help but agree with Oprah Winfrey that, "it is not failure if you enjoyed the process." In the past, I have shared some accomplished milestones and achievements but today I'll like to share the many failures that have led to the successes.
I FAILED at so many things – way too many if I have to count all of it but let me start from the beginning:
I failed mathematics with a D7 in WAEC. Because of this I couldn't get a graduate role in PwC, KPMG, EY, McKinsey or Deloitte. I got rejected several times for not having 5 credits in one sitting. But look at me today, check my LinkedIn bio again; I couldn't get into the Big-4 international consulting firms as a graduate but hey… we got the experience in other companies and came back to join the team.
I failed my JAMB with a score of 187, thank God for private universities and a loving father who was willing to make sacrifices for his children's education.
I dropped out of medical school; I could not stand the sight of cadaver and ended up in Microbiology (I loved it, especially because I spent only 4 years in university. Medical students in my set spent longer than 6 years due to accreditation issues)
I narrowly escaped rewriting Managerial Accounting paper for my Masters degree; cut off score was 50 and I scored 51. Well, I was impressed with myself because I went from a pure science background with no experience in accounting to business school; it wasn't easy at all but eventually, I graduated with a MERIT.
I had over 65 job rejections in the UK before getting my first graduate role, well… contract role for 1 year before getting a permanent job afterwards.
I failed as a Vlogger, started my YouTube page in 2013 and have only 5 videos to boast of in 6 years. With the rise of social media influencers and evolution of new media, can you imagine where I would have been if I continued?
I was unemployed for almost a year after coming back to Nigeria; thank God I had some skills, so I decided to cash my passion and turn my skills to profit.
My first book, "IN THE FACE OF IMPOSSIBLE ODDS" was rejected by Farafina Publishers in 2016. I will never forget the rejection email especially how demotivated and unqualified I felt; I didn't write for a while after that. One year later, I bounced back, wrote Cash Your Passion (self-published) and this book is the gift that keeps on giving. 2 years post-publishing, it is still raking in profit, positive reviews and most importantly impacting lives. I hope to publish the first book, sometime soon (by God'.
I failed woefully in my first business and lost all my savings. Because of this failure, I learnt never to go into a business without conducting a PESTLE analysis (analyzing the Political, Economic, Sociological, Technological, Legal and Environmental factors that could potentially affect your business)
In got into the African Entrepreneurship Awards in 2018 but was evicted at Round 3. I worked so hard for this, sleepless nights and empty stomach – so I was frustrated when I didn't make it; I was also demotivated to apply for any business funding or grants. I bounced back to try again in 2019 and Uncle Tony said YES; I couldn't have gotten into Tony Elumelu Entrepreneurship Program if I hadn't gone through the grinding at AEA.
Whether we like it or not, failure is a necessary stepping stone to achieving our dreams, I am glad I had these failures and looking forward to much more failure because every adversity, every failure, every heartache carries with it the seed of an equal or greater benefit.
Have you failed at something? If yes, then you are on the path to greatness.
One more thing, share your failure story in the comment section and encourage someone today.
Written by: Lynda Omerekpe