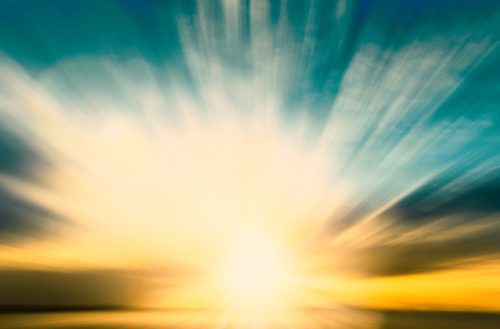 As much as this sounds like the title of a book by Benny Hinn, I am not here to talk about the book but the person of the Holy Spirit and why it is important to let Him lead us daily. But first, I would like to lead with a question: who is the Holy Spirit to you and why should you make him a priority in your life?
The whole essence of our lives is to please God and bring Him Glory and the only way to do that is when we yield ourselves to the leading of His Spirit. For the bible says
"However, when He, the Spirit of truth, has come, He will guide you into all truth; for He will not speak on His own authority, but whatever He hears He will speak; and He will tell you things to come."
This simply means our lives can only move in the direction of what God has in mind when we are led by the Holy Spirit. I believe our encounters with the Holy Spirit is a personal one and to really experience Him you must understand that and acknowledge his presence in your life.
I remember when I was struggling to pray. I still struggle sometimes no doubt, but it has become more of a lifestyle rather than "a have to do situation" and I know the importance and who to ask for help when my strength fail me.
For someone who always had a plan and lived by certain principles and strategies, you would have thought keeping my spiritual life on fire would have been a walk in the pack. WRONG, it was a disaster. I thought I could figure out how to know and please God on my own so I set the alarms and put together a plan: when to wake up, when to pray, when to study and all that. But it was an epic fail – a rigorous exercise of routines that I did not enjoy and did not want to do.
However, because I was accountable to some people and I didn't want nobody thinking I was backsliding into sin, I had to keep at it, just read my Bible and pray, in case I was asked. Can you relate? I know, I am talking to you right now. At this point, the scripture by strength shall no man prevail comes to mind.
I am sure Holy G was just looking at me and laughing at my folly. Funny part is, for every time I started over, the journey looked like it was going to work out until I get weary and tired and then slip off. Needless to say, it was a battle between my love for sleep, the overwhelming stress of this world and my hiding place – God. The former was winning because I did not let the later lead me into the abundant life He has in mind.
Long story short, I got tired and I got real and asked myself, why is this so difficult? Why am I struggling with this? Why is it so hard? and I got my response. of course you know He would always respond and He said to me, you think it's by following the rules that you can please me or enjoy the promises I have for you but that's not it, it's by following me with your heart and surrendering it all. That way I can help you and I can lead you. So, I asked how, and He said just let me.
Then, I decided to start over, this time neglecting all the people pleasing and focusing on the one I had a business with, and He came through. First by helping me remember I had the Holy Spirit in me, then came the answers to my one-minute prayers said in truth and sincerity compared to hours of vain repetition that yielded nothing. Then came the little prompts that redirected my days, followed closely by the desire to know him more and more.
It then became easier to yield to him, because I knew the difference between asking God for help and doing it on my own, even when it didn't work out the way I wanted it, there was a peace that accompanies it that I cannot explain.
So even though, I still set my alarms and I still have my plans, this time I handed it to him and asked him to help me and He does every time. So a prayer as little as Holy Spirit please wake me up at 4am I want to pray and even if I decided to sleep at 2am, at 4am He wakes me up and reminds me that I wanted to pray.
The Holy Spirit is not a vague expression of God, He is God Himself given unto us in salvation. And one simple way of relating with Him continually is communication through prayer which helps you create a relationship with Him and making Him priority in your life by relying on Him as your first point of call when you need to make a decision.
The Holy Spirit is not a feeling or an emotion, He is a person, and He interacts with us as such. You see that thing that told you not to go out at 9am and you were wondering why and when you eventually passed your intended route you were told there was an accident around 9, yeah that's the Holy Spirit. He is sweet like that and He is always ready to lead us as long as we are ready to yield.
The Holy spirit is not a fancy expression of the trinity, He is the third head of the trinity. He is the enabling capacity for us to fulfil our God given purpose and dreams. He is the one who plants the desires in our hearts and lead us in the direction of the fulfilment of it. He is our ultimate partner on our journey to the fulfilment of our destiny. The Holy Spirit is God in you, God in me.
How then do we live our lives consistently being led by Him?
By acknowledging him: He's right there with you and as long as you live in that consciousness you will be rightly guided into all things
By communicating with Him in prayer: Prayer is not only to get things from God, but also how we develop a relationship with Him, and it does not always have to be an hour. It can be a minute and as long as it is consistent, you build a momentum and your brain registers it such that you will get to a point where you crave his presence and without stressing you will start using hours in prayers without getting tired
By reading the word: The only way to know Him well is to learn about Him and how else but through His word. So, start with a verse, then two, then three and be consistent and slowly it becomes a lifestyle.
By drawing strength from many channels: There are days you cannot pray and you just feel out of touch, don't allow your weakness give room to the devil. In those moments, join an online prayer, listen to a sermon, listen to a worship song, call a prayer partner.
Whatever you do, be sure you are connected to the divine, surrender completely to Him and your strength will be renewed as the eagles and you will daily live in the fullness of life.
Our journey in life has a lot of obstacles and can be burdensome but it can be lighter when let him take the wheel.
Written by Tolulope Oyekan