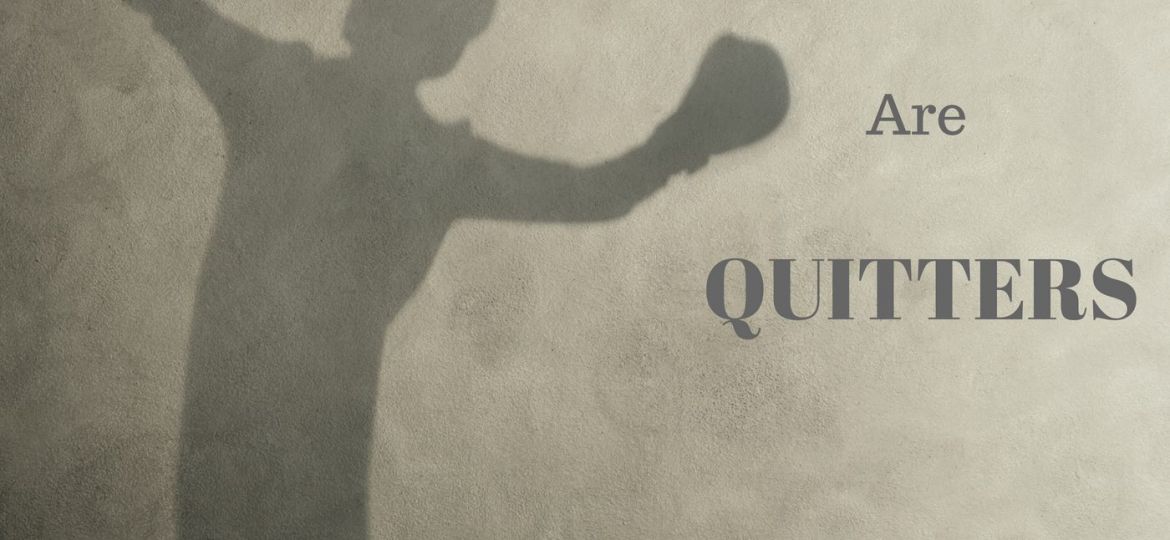 I love quotes and over the years, I have seen a lot of people make reference to this one by the awesome American football player coach… "Winners never quit and quitters never win" – Vince Lombardi
However, as a budding poet, I love disrupting the intellectual space with poetic licence and I have written a few poems that tend to prove that winners are quitters, one of them is right below this piece. Meanwhile, In recent times, I have read in various news media of various women who lost their lives and other parts of their bodies due to domestic violence, the saddest of all was the story of a woman who allegedly killed her abusive husband in a bid to defend herself while her husband was beating the life out of her. After reading these kinds of stories, what comes to my mind is "IS IT A CRIME FOR WINNERS TO QUIT WHEN SOME LOSERS REFUSE TO GIVE UP?" It is not a sin or sign of weakness to leave something or someone either temporarily or permanently, especially if such a person or thing is detrimental to your progress, success and happiness in life.
In our lifetime, we will meet positive people who find sweet solutions to every sour situation and we will also meet negative people who find sour situations in every sweet solution. How we relate with these different sets of people is a major determinant of how far we will go and how fast we will grow in life. Some of us need to quit rolling with problem promoters.
Sometimes, it is not the atmospheric condition of our location that determines our altitude but our attitude towards the atmospheric condition. We may not be able to stop the storm but we can stay calm and sail on in the storm. Some of us need to quit living in high fear and hope forlorn. Faith, focus and foresight are the formidable forces that we can deploy against the flood and flames of life.
For great things to start, certain things must stop. For a man in the valley to get to the mountain top, he needs to quit staying in the valley. Winners are those who quit being pessimistic about tough situations. Winners quit pleasing people and fleeing from fears. They quit staying in the prison of the past and sitting on the throne of thorns. If we must get up and grow up, we need to give up on some unproductive possessions, unprofitable partnerships and unwholesome passions.
Prospecting winners must quit sitting in comfort zones and storm the stage with crazy creativity. They also must prepare for opportunities and expect opposition; challenges are a vital part of a cheerful life. Those who got the best out of life had to face the worst. They understand that there is no great glory without a sour story.
Quit believing that you cannot make it. Quit allowing parasitic friends to push you out of your purpose. Quit wasting your time, talent and treasure on irrelevant things and irresponsible people. Quit dressing to impress everyone. Quit stressing and oppressing others. Lead your heart with compassion and stop following your heart out of confusion.
QUIT BLAMING YOUR PAST FAILURES AND START BUILDING A BRIGHT FUTURE!
Those who want to stay lit
Have things they must quit;
Some have to quit crying
and dare to keep trying…
Some have to quit lying
In order to stop dying…
Some have to quit sinning
In order to start winning,
Some have to quit smoking
In a bid to forestall choking.
Some have to quit drinking
In order to stop sinking….
Some have to quit strife
In order to lead a great life.
– Adeleke Adeite