Made For More Women's Conference Presents:
Date: Friday October 19, 2018 6:30pm and Saturday October 20, 2018 10am
2018 CONFERENCE COUNTDOWN
Discussions will center on women moving forward with passion and a sense of mission/calling
Made for More is a two day annual women's conference of The Elevation Church. At this conference, women gather to worship, pray, share the word and network.Too many voices speak words of limitation to us as women; at this conference, expect to be inspired to aspire to be and do "More"
The conference is for every woman, irrespective of status and age, both within and outside TEC, who wants to find and walk in the fullness of God's plan in every area of her life. It holds annually in the month of October.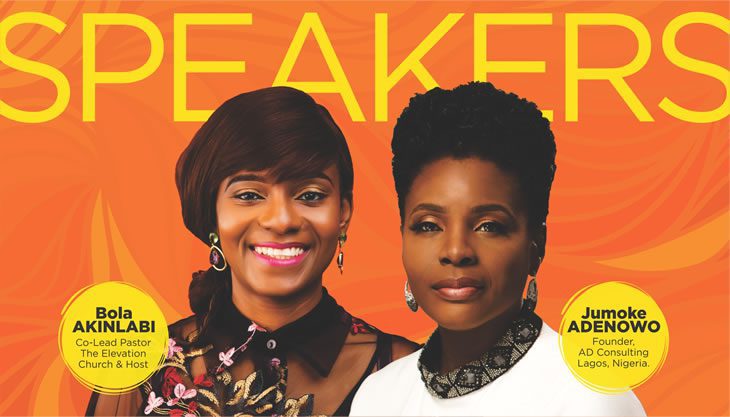 The over-riding theme at every Made for More Conference is:
 Woman, you are not what the news says you are

 You are not what your past says you are

You are not what your circumstances say you are

You are not what your weight says you are

You are not what social media says you are

The place to find your definition and identity is in what God says about you

And our God celebrates His daughters
The daughters of the King are clothed in beautiful colors so regardless of how life may have tried to rip those colorful robes off you, or spoken words of limitation into your heart; Your Father is covering you in a robe of radiant colors.
Lift your head, beautiful daughter of the King Your Father made you for much more than you can think or imagine.
October 2016: Made for More with Pastor Nike Adeyemi
October 2017: Building a Circle of Strength with Revd. Mrs. Funke Adejumo
SERVING AT THE CONFERENCE
There are several opportunities to serve dring the conference!
Please sign up to join the following teams:
• Prayer
• Ushering and Protocol
• Publicity
• Business Fair and Exhibition
• Planning and programming
This is an hour of unadulterated, uninterrupted worship as we break open our alabaster box and lavish praise on the Only One who deserves it all.
WOMEN IN BUSINESS FAIR AND EXHIBITION
This exhibition shines the spotlight on women in business and enterprise as we celebrate women-owned/women-led businesses in an exhibition on the conference grounds
In this segment, we take off the kid gloves and deal with real topics, real issues and real pain in our Real Talk segment.
Be prepared to be encouraged, challenged and built up as our conference speakers deliver a word in season designed to take you out of your comfort zone and release you into a world of great possibilities
We would love to hear from you.
Please send your prayer points and other feedback using the form below.